Repair Slip Coupling Installation Instructions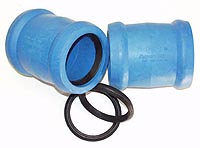 SUPERFIT 100MM PN16 S1& S2 PVC, DI & AC Pipe
Thoroughly clean the ends of the pipe to be fitted of any sand and dirt.
Chamfer both pipe ends at 30 degree or fit 4N champer ends.
Check sealing rings are clean and fitted correctly in their seating grooves. Make sure the correct sealing ring is installed.
Lubricate sealing rings with approved antibacterial lubricant.
Mark the pipe to be fitted approximately 100mm from the end to ensure the coupling has equal amount of pipe in each end.
Fit the chamfered pipe end into the coupling. Twist the coupling to initially compress the sealing ring.
Once the sealing ring has been compressed, the coupling should slide easily on by hand.
Repeat the same process for the other side.